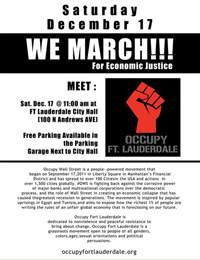 My city's occupiers invited critique of their flyer for D-17. As per
previous commentary
, we feel the clenched fist is not an appropriate symbol to be over-utilized in a populist movement that espouses non-violence, even in self-defense. Likewise using red and black. When seen from a distance OFL's flyer instantly conveys a hard left message that is traditionally anti-capitalist, yet neither OFL or the Occupy movement in general could be considered as such. For liberals to use such imagery is mere posturing and unessecarily polarizing. While anarchist vanguards may indeed be driving the movement forward in places like Oakland and the mothership occupywallst.org throws up the fist and calls for a global revolution, the wave of populist sentiment we are all surfing right now in America is but an angry plea for fair play, of reform, not rebellion (yet).
IF agrees with the convention forming around "economic justice" as one adequate distillation of Occupy's aims, a decent enough bite of sound despite us feeling like the phrase is an oxymoron. It works well with the idea of fairness, one of the mythic properties of the American Dream from which more and more Americans are waking up. Another such ideal of American exceptionalism is freedom of speech, which should be a core issue in response to the violent suppression of the occupation protests. IF feels that a patriotic appeal to Americans to march in favor of economic justice and free speech might be a more interesting approach than falling back on leftist cliches.
To that end IF produced some flyers promoting D-17 as a national event for economic justice and free speech, melding the Occupy brand with jingo like stars and stripes, eagles and even the beloved yellow ribbon of the magnet variety. Templates were shared with comrades in several American cities and I slotted my own city's info in as well (shown below and available for download). Monochrome versions were printed and distributed around veterans' halls, condo activity rooms, libraries, free paper vending boxes, shopping malls, gun shows, race tracks, casinos and rodeos. A family oriented flyer made it to bulletin boards at community centers and coin laundries.
Is it cynical to utilize nationalist symbolism and sentiments one might otherwise oppose just as an experiment in attracting patriotic Americans to an Occupy event? Perhaps it is, like all detournement, but IF does not make propoganda to aggrandize itself or strike a pose (we make art for that). We support the Occupy movement by pushing its contradictions and fueling its potentialities. - B. Yussef